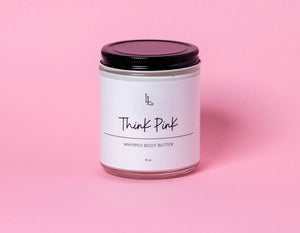 Local Lather Soap Shop present Think Pink!

This gorgeous girl is one for the books! She's so incredible, it's our current signature scent. A lovely blend of berry, gardenia, peach, & sandalwood.
♫ "Red is dead, blue is through, Green's obscene, brown's taboo. And there is not the slightest excuse for plum or puce —or chartreuse. Now, I wouldn't presume to tell a woman what a woman oughtta think, But tell her if she's gotta think: think pink!"
Jar: 8 ounces
Dimensions: 3x3.5" glass jar

Pthalate-Free
Paraben-Free
Cruelty-Free
Vegan

Made with deliciously whipped coconut oil & shea butter. Shea butter is an extraordinary skin care superfood. It includes unsaturated fats, essential fatty acids, vitamin A, E & D.

They thoughtfully source ingredients, & design packaging to be gentle on the planet & on our bodies.