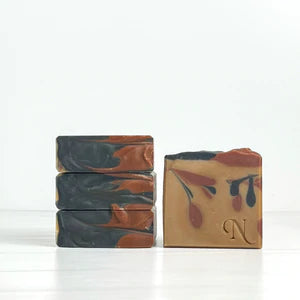 Scent: The smell of crisp leaves under foot and fresh pine with berries falling off the trees. 
Nath's  Artisan Soaps are handcrafted with high quality ingredients specifically chosen to ensure a hard, long lasting and cleansing bar of soap. Handmade in small batches at their soap studio in Connecticut, these bars are individually cut by hand, while they aim for our bars to weight 4.5 Oz (128 g) per bar, there might be a slight variation in size and color. 
When properly taken care of, handmade soap can last sometimes longer than commercial soaps. We recommend you keep your soap bar in a dry, ventilated area and allow the water to fully drain after each use.
Since all of our soap is handcrafted and handmade, they do their best to describe and photograph its physical qualities. The soap you receive may not look exactly like the one in the picture but that is because every bar of soap is very unique in it being specially handmade and hand cut.
Ingredients: Cocos Nucifera (Coconut) Oil, Lard, Olea Europaea (Olive) Fruit Oil, Aqua (Water), Sodium Hydroxide (Lye), Butyrospermum Parkii (Shea Butter) Fruit, Ricinus Communis (Castor) Seed Oil, Goat Milk, Fragrance, Kaolin Clay, Mica Colorants, Sodium Lactate.