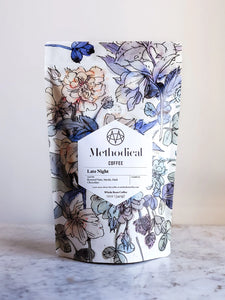 12 ounce- whole bean
We Taste: Roasted Nuts, Smoky, Dark Chocolate
Components: 50% Costa Rica La Pastora - 50% Brazil Dulce Signature
Our roastiest toastiest coffee without any bitterness.
Our Belly Warmer blend was created as an homage to diner coffee—the early morning or late night comfort food assistant. But we've decided to take our Belly Warmer blend and turn it to 11 with Methodical Late Night. This is our darkest, boldest, most developed cup of coffee we offer yet without the bitterness often associated with dark roasted coffee. This coffee is equally enjoyable black or with cream and sugar. You'll find no judgement here.
Where is it from?
Late Night is made up of equal parts Costa Rica, La Pastora and Brazil, Dulce Signature. The Costa Rican component is brought to us from the CoopeTarrazu cooperative group in the San Jose province of Costa Rica. The co-op represents over 3,500 partners in the province, and is committed to the welfare of those partners and their communities. The Brazilian component is the culmination of work by two female producers in the São Palo region of Brazil. Together they make Methodical Late Night, a rich, bold, and creamy cup of coffee.