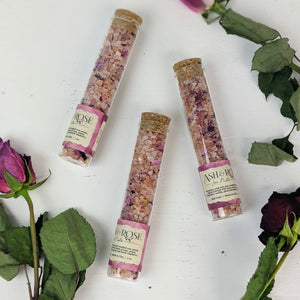 Company: Ash & Rose
Indulge your senses with this luxurious bath soak, made with Himalayan pink salt, crushed rose petals, and essential oils. Designed to enhance all forms of love, including friendship, romance, and most of all self-love.
Pink salt is mined in the Himalayan mountains. It's naturally beautiful, pure, and packed with beneficial minerals. Some say that a pink salt soak can reduce signs of aging, improve sleep, and even boost libido...at the very least it will help you relax!
"Love Notes" fragrance blend is fresh and romantic, featuring hints of rose, peony, bergamot, vanilla, plum, and black raspberry.
Use just a sprinkle, or the whole tube at once. Dim the lights and burn our Love Notes Loaded Candle for an immersive experience.