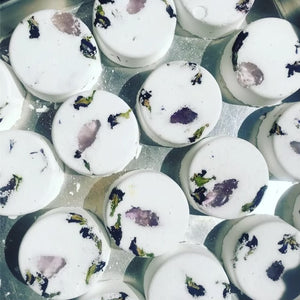 Lavender & cedar essential oil blend topped with a full moon charged amethyst crystal embedded with cornflower and butterfly pea disc for aromatherapy.
Use this blend for the following intentions:

- calm anxiety
- promote peaceful sleep

- improve creativity and intuition

- amethyst promotes calmness, clarity + relaxtion

* Sachet Muslin Bags are included with purchase, however not packaged together.
Unwrap shower disc and place into sachet bag, hang near or place close to your face. Once in shower, splash water on disc to start fizzing. Take shower as normal. Dry off any unused portion for another use. Once used, remove the amethyst crystal for use in daily affirmations and manifestations.

Vegan, Cruelty Free, Phthalate Free and Paraben Free.

Packaged in recyclable polyolefin.