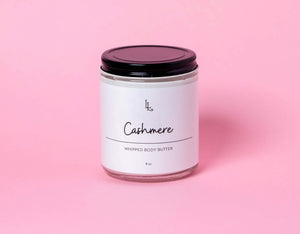 ***DOES NOT SHIP UNTIL APRIL 7th***

Local Lather Soap Shop presents Cashmere!

This scent smells like a warm hug on a cold day. It's intoxicating sheer floral fragrance is inspired by the feel of cashmere on your skin. Combining the essences of Moroccan jasmine, lily of the valley and the freshness of bergamot, against a warm background of sandalwood, amber and musk, it's a sensually soft scent that seduces the senses. You will want to wrap yourself up in this fragrance again and again!

♫ "I'm making you a coat of pink cashmere. You got to know how I feel about you." - Prince
Jar: 8 ounces

Dimensions: 3x3.5" glass jar

Pthalate-Free
Paraben-Free
Cruelty-Free
Vegan

Made with deliciously whipped coconut oil & shea butter. Shea butter is an extraordinary skin care superfood. It includes unsaturated fats, essential fatty acids, vitamin A, E & D.
They thoughtfully source ingredients, & design packaging to be gentle on the planet & on our bodies.