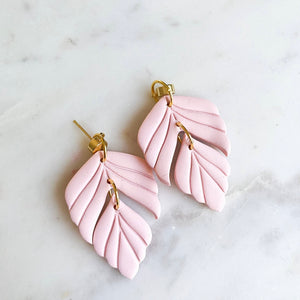 Description

DIMENSIONS | 3 in x 1 in
MATERIALS | Polymer Clay + Raw Brass (nickel free). Posts are stainless steel (hypoallergenic)

Each clay piece is handmade and has natural imperfections. Clay pieces can vary slightly in color based on the slab each batch was cut from. These have been hand mixed, designed, cut, baked, sanded, assembled and photographed. 

How to Care for Your Earrings:

If dirt or makeup gets onto the clay, it can be easily cleaned off with acetone (found in nail polish remover) and a cotton ball.

The jump hooks and some accent pieces are made out coated, polished or raw brass. A sunshine cloth can be used to polish pieces and bring them back to new if pieces tarnish over time.
Return Policy:
If earrings arrive to you damaged please contact me with in 24 hours and I will issue a refund. Refunds will be handled on a case by case basis. Earrings cannot be returned.